OWC 1/2TB Aura Pro 6G Solid State Drive and Envoy Pro Storage Solution
For 2012 to Early 2013 MacBook Pro with Retina display
##購買OWC產品前敬請查詢存貨量及價錢,歡迎whatsapp或致電查詢,謝謝##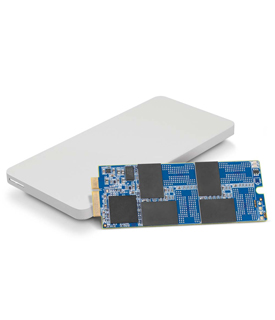 Upgrade Kit with SSD, Installation Tools, & Envoy Enclosure for Easy Data Transfer/Original Drive Reuse
Highlights
Up to 26% faster than the factory SSD
Up to 530MB/s
Includes sleek, tapered aluminum Envoy Pro storage solution, Torx T5 screwdriver, and a Pentalobe compatible driver
Designed for Mac
Once again, OWC provides Mac users an upgrade path that delivers phenomenal performance, functionality, and reliability! Whether it's for the base 13″ model only offering a 128GB SSD or the base 15″ model offering just a 256GB SSD, installing an Aura Pro 6G SSD is the best enhancement for the MacBook Pro with Retina display. Just like other OWC upgrades, we include a free 'how-to' video to make this an easy and money-saving DIY upgrade.
More Speed, More Capacity for MacBook Pro
OWC Aura Pro SSDs provide a noticeable increase in performance over the factory SSDs for all MacBook Pro with Retina display models:
Increase capacity up to 16x the 13-inch base models
Increase capacity up to 8x the 15-inch base models
Get write speeds up to 500MB/s, 26% faster than factory original1
Get read speeds up to 530MB/s, 8.6% faster than factory original1
Better by Design
OWC redesigned its 3rd generation of OWC Aura Pro 6G SSDs with premium 3D NAND Flash and the latest controller technology to operate cooler and consume less power, resulting in improved battery life for your MacBook Pro. OWC SSDs are engineered to be the best for Mac, undergoing a rigorous multi-stage lab testing process to deliver absolute reliability at maximum performance long into the future.
SLC caching algorithm accelerates burst performance
Global wear leveling algorithm automatically distributes data evenly and manages program/erase count, maximizing SSD lifespan
Data refresh technology ensures data integrity, gradually refreshing data across the SSD over time
ECC protection combines LDPC hard and soft decoding with advanced algorithm to detect and correct errors throughout the entire SSD data path
Advanced security protocols support AES 128/256-bit full-drive encryption
Everything You Need, Ready for Installation
Re-use the factory SSD via the OWC Envoy as an external storage solution.
Take your data with you — Small enough to keep in a pocket or laptop case!
Easily add additional laptop storage with no AC adapter required.
Ultra-portable, bus-powered external storage solution designed to complement the MacBook Pro with Retina display
The OWC Envoy Pro combines elegance and functionality into a sleek, portable external storage solution that complements the design and finish of the MacBook® Pro with Retina display. Its anodized aluminum body protects your drive and data, while its minimal size allows for simple stowing in coat pockets, backpacks or briefcases.
The USB 3.0 interface offers speedy transfer rates of up to 500MB/s and the Envoy Pro requires no AC power.
1. Based on sequential speed testing of original stock 512GB SSD tested by Bare Feats. Sequential write speeds of 395MB/s, read speeds of 488MB/s.
2. The OWC Envoy Pro enclosure is specifically designed for use ONLY with the factory SSD installed in select Apple Macintosh computers. Do NOT attempt to install or use OWC Aura or Aura Pro X SSDs in the Envoy Pro as you may damage the OWC drive, the enclosure, or both, and such damage is not covered under warranty.
Brand
OWC